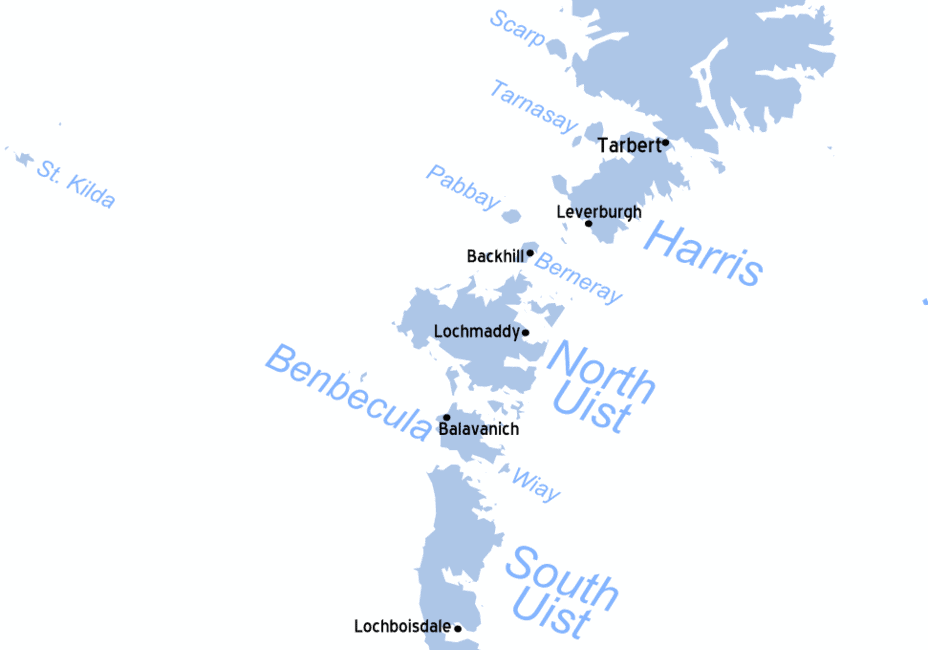 Embarking on an Epic Adventure: Exploring the Hebridean Way
The Hebridean Way is a long-distance trail that spans across the Outer Hebrides, a chain of islands on the western coast of Scotland. The route typically begins in Vatersay in the south and ends in Stornoway on the Isle of Lewis in the north. Here's an overview of the route, which covers approximately 185 miles (298 kilometers) in total:
Vatersay: The journey typically starts on the beautiful island of Vatersay, known for its pristine beaches and rugged coastline. From Vatersay, you'll traverse the causeway to reach Barra.
Barra: Explore the scenic landscapes and historic sites of Barra, including the famous Kisimul Castle. From Barra, you'll take a ferry to reach the next island.
Eriskay: Home to stunning sandy beaches, Eriskay offers picturesque coastal walks and the opportunity to immerse yourself in Gaelic culture.
South Uist: As you continue north, you'll reach South Uist, known for its machair (coastal grassland) and beautiful coastline. The route takes you through villages like Lochboisdale and Daliburgh.
Benbecula: The causeway leads you to Benbecula, where you can explore its unique blend of moorland, lochs, and coastal areas.
North Uist: Enjoy the wild beauty of North Uist, with its expansive beaches, rugged hills, and abundant wildlife. The route passes through areas like Berneray and Lochmaddy.
Berneray: From Berneray, you'll take a short ferry ride to reach Harris, where the landscapes become more mountainous and dramatic.
Harris: Explore the awe-inspiring hills, stunning beaches, and the famous Luskentyre Sands. The route passes through Tarbert, the main settlement on Harris.
Lewis: The final leg of the Hebridean Way takes you to the Isle of Lewis. Traverse the rugged terrain, visit ancient standing stones like the Callanish Stones, and explore the town of Stornoway, where the route typically ends.
It's worth noting that the exact route and variations can vary depending on personal preferences and logistical considerations. Some walkers choose to complete the Hebridean Way in sections, while others may opt for alternative routes or detours to explore additional areas of interest along the way.